First Minister Nicola Sturgeon is to announce whether the toughest Covid restrictions are to be imposed in the west of Scotland.
Ms Sturgeon said on Monday it was "likely" that some areas would be moved from level three to level four.
This could include the six councils in the Greater Glasgow and Clyde health board area, including Glasgow itself.
There has also been speculation that both North and South Lanarkshire could be moved to the highest tier.
Rising numbers of cases have previously been highlighted in Stirling and in both East and South Ayrshire, which are all currently in level three.
But the government has also been looking at whether any areas could move down a level, with Ms Sturgeon saying: "This is not a one-way street".
Any changes, which will be announced by Ms Sturgeon at about 14:20, would come into force from Friday.
No part of Scotland has been placed in the top level since the tiered system – which ranges from level zero to level four and is reviewed on a weekly basis – came into force on 2 November.
However, there have been concerns that infection rates are not reducing quickly enough – or are continuing to rise – in some of the 22 areas that are currently in level three.
Level four restrictions would see the closure of a wide range of premises including non-essential shops, pubs, restaurants, hairdressers, barbers, gyms and leisure centres, although schools would remain open.
Ms Sturgeon has said that moving to the highest level "for a limited period in some areas" could help protect the NHS and pave the way for some easing of restrictions at Christmas.

What are the level 4 restrictions?
Level four is the closest to a full lockdown, similar to the one introduced in March.
Socialising would not be allowed in people's homes, but six people from two households could still meet outdoors and there would be no limit on outdoor exercise.
However, people would be advised to minimise the number of meetings with people from other households, and to follow social distancing guidance.
Those living under level four restrictions would be advised to avoid any unnecessary travel out of the area, and to keep journeys within the area to an absolute minimum.
The premises which would close include:
Non-essential shops
Pubs, restaurants and cafes, although takeaways can still operate
Leisure centres and gyms
Hairdressers, barbers, beauticians and any other close contact retail services
Indoor visitor attractions and all leisure and entertainment premises.
However, schools would remain open full-time.

The Scottish Retail Consortium has warned of the impact that the highest tier of restrictions would have on shops.
Director David Lonsdale said: "The scientific evidence indicates retail is a safe environment and closing stores will do little to suppress the virus.
"However, the economic impacts of forced closure during the Christmas trading period are severe, which is why it should only be a last resort."
In neighbouring East and West Dunbartonshire, council leaders are split over whether a move to level four is now the right thing to do.
Andrew Polson, the Conservative leader of East Dunbartonshire, told BBC Radio's Good Morning Scotland programme the Scottish government must show "extreme caution" because of the impact on businesses and people's mental health.
He said: "I know the people of East Dunbartonshire are looking for some relaxation of the restrictions.
"We should be continuing with the tier system we've got. We are only two weeks into it and I think we need to let it go."
Jonathan McColl, the SNP leader of neighbouring West Dunbartonshire Council, said the move to level four would be "incredibly difficult" for businesses.
However, he insisted the threat to public health was the number one priority.
He told Good Morning Scotland: "It has to be a major consideration for the government of the impact it has on, particularly, small and medium-sized enterprises that don't have the same capacity to be as resilient.
"But you have to look at the whole thing in the round. We are trying to protect people and save lives here.
"The absolute worst-case scenario would be if we were in a lockdown over Christmas. Nobody wants that."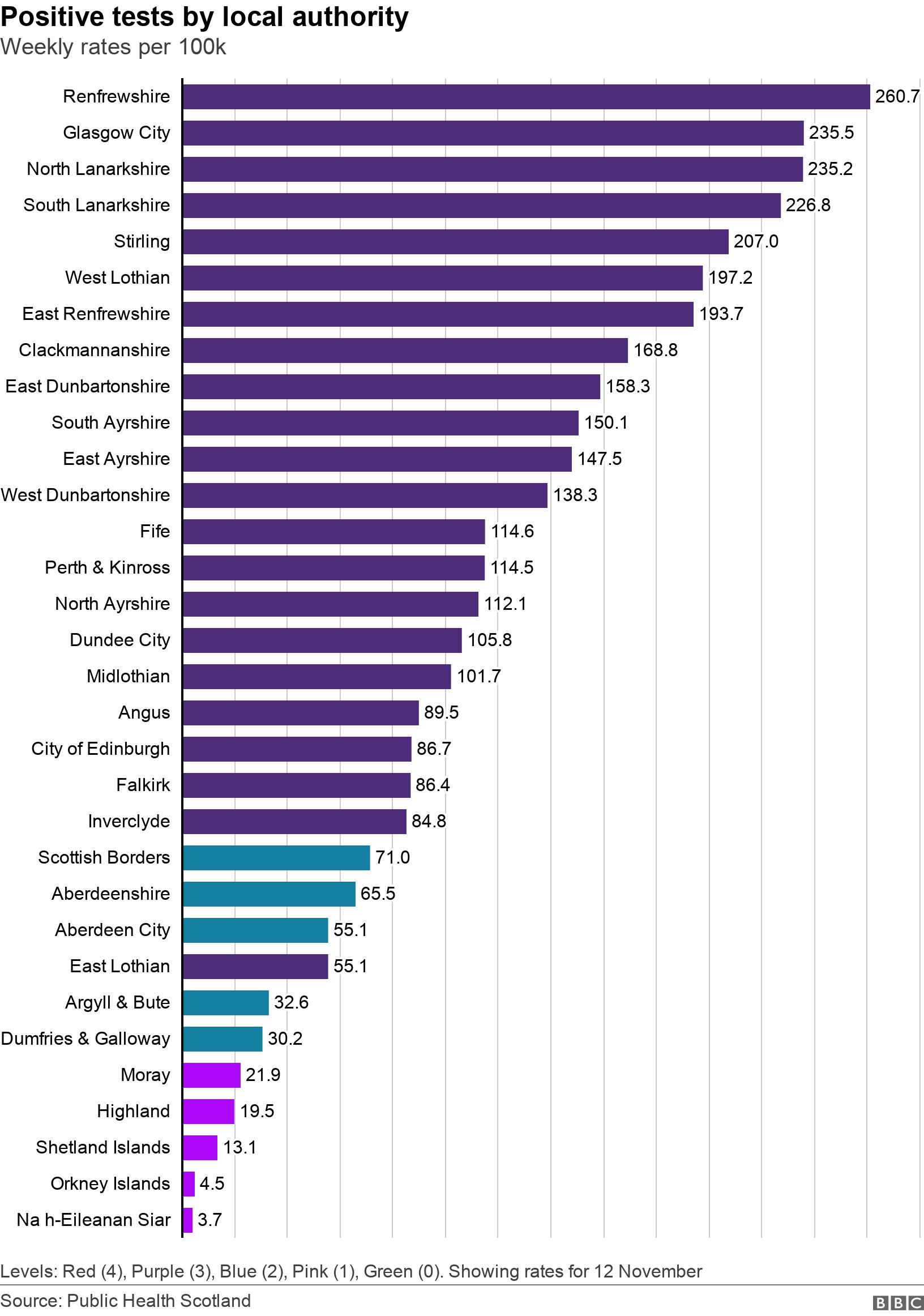 Aberdeen, Aberdeenshire, Argyll and Bute, Borders, and Dumfries and Galloway are currently in level two, with Highland, Moray, Orkney, Shetland and the Western Isles in level one.
Ms Sturgeon's cabinet will decide on any changes on Tuesday morning before she makes a statement in the Scottish Parliament in the afternoon.
Talks have been taking place between the Scottish government and the local authorities in the areas which are under threat of being placed into level four.
Deputy First Minister John Swinney said on Friday that councils in the west of Scotland had been warned that the move to level four was possible.
On Monday, Ms Sturgeon said: "I think it is likely that we will see some areas go to level four this week.
"But is it inevitable? Until we have taken that final decision, no of course it's not."