The UK's coronavirus alert level has been lowered from level five to four in all four nations as the risk that the NHS could be overwhelmed "has receded".
The four UK chief medical officers and NHS England's national medical director agreed the change following advice from the Joint Biosecurity Centre.
The alert level had moved to level five on 4 January, shortly before England and Scotland began fresh lockdowns.
The top medics urged people to "remain vigilant" by following lockdown rules.
A change in the alert level does not automatically mean restrictions can ease, but it helps to inform government decisions on the rules.
Prime Minister Boris Johnson and Scotland's First Minister Nicola Sturgeon have this week set out their separate plans to lift lockdown restrictions. Northern Ireland and Wales will outline their plans in the coming weeks.
England's Prof Chris Whitty, Northern Ireland's Dr Michael McBride, Scotland's Dr Gregor Smith, Wales's Dr Frank Atherton and NHS England's Prof Stephen Powis said their decision to reduce the alert level was made because the number of cases in hospital was "consistently declining".
However, they warned: "We should be under no illusions – transmission rates, hospital pressures and deaths are still very high."
They said the vaccine rollout would eventually have "a major impact" but for the time being "it is really important that we all – vaccinated or not – remain vigilant and continue to follow the guidelines".
Prof Whitty added in a tweet: "If we continue to follow the guidance, cases will continue to fall."
A further 9,985 new coronavirus cases were reported in the UK in Thursday's daily figures, as well as 323 deaths within 28 days of a positive Covid test.
The coronavirus alert level, unveiled by the UK government in May 2020, is measured by a five-level, colour-coded system.
Level five (red), the highest level, is when there is a "material risk of healthcare services being overwhelmed" within 21 days, and extremely strict social distancing is enforced.
Level four indicates a high or rising level of transmission, with social distancing still enforced.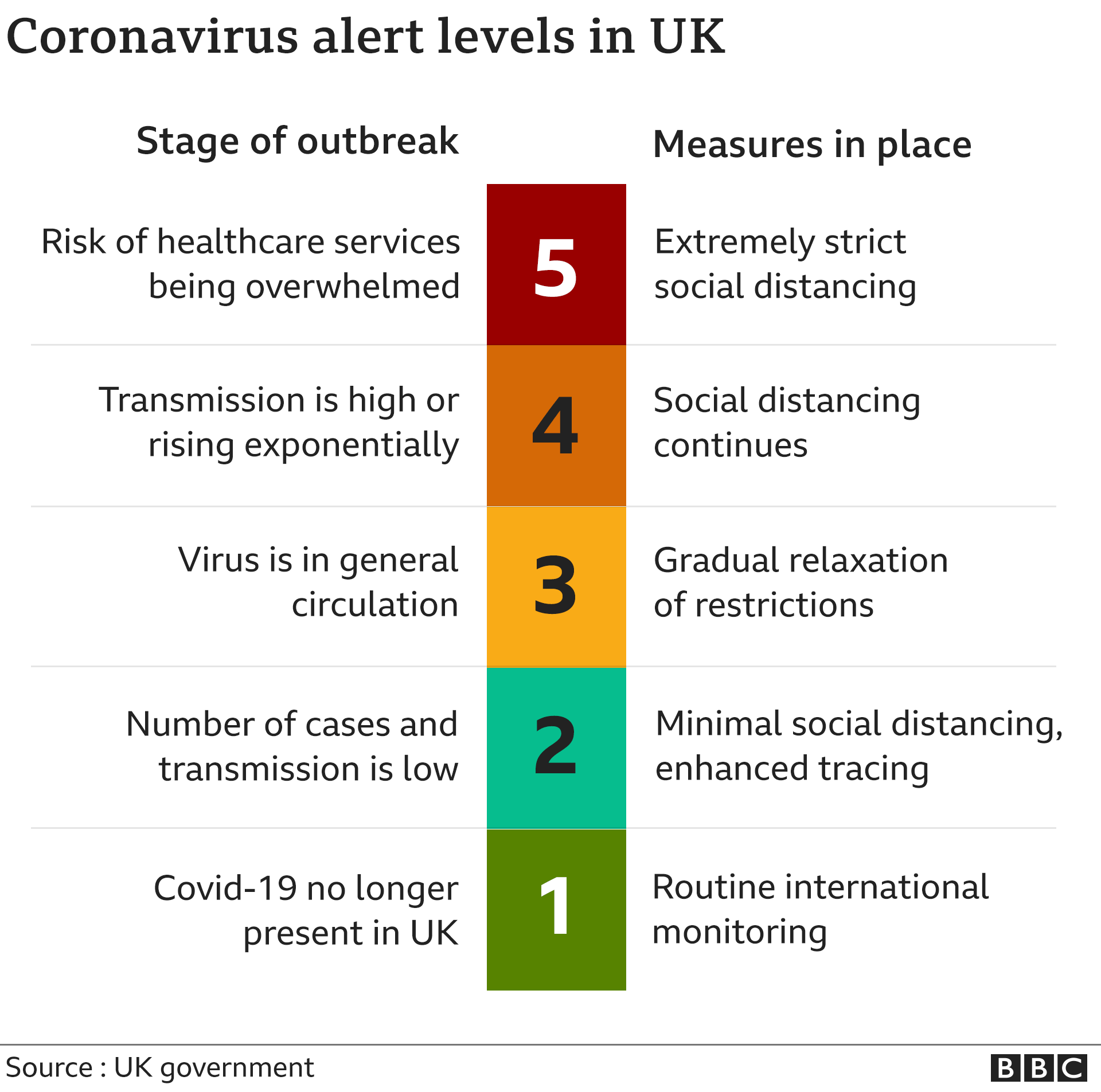 The UK's alert level dropped down to level three in June 2020. During the summer, restrictions were gradually relaxed to allow people to socialise in groups indoors, and much of society reopened, including pubs and restaurants.
However, the alert level was moved back up to level four in September as case numbers began to climb again. The same month a new, fast-spreading variant of the virus was detected in Kent.
As cases spiralled across the UK, the country moved to the highest level, level five, on 4 January.

The move to alert level five was made because the chief medical officers were worried the NHS was at risk of being overwhelmed.
It was an announcement that essentially forced England's third national lockdown.
But since the number of cases peaked at over 39,000 in mid-January, cases have fallen rapidly.
In fact, the numbers of new admissions coming in each day are not far off what you would normally get for respiratory illnesses in winter.
But while the immediate threat is over, hospitals are still incredibly busy. There are over 16,000 patients with Covid in hospital – that's only around 25% lower than the total in the peak of the first wave.
Operating theatres continue to be used as temporary critical care areas and non-urgent care is being cancelled in some places.
But with infection levels still coming down, we know this will ease further, hence the move to level four.

The Joint Biosecurity Centre, set up by the government in spring last year, has the task of recommending what the alert level should be, based on:
Covid-19's reproduction (R) number, a scientific measure of how fast the virus is spreading
The number of confirmed coronavirus cases at any one time
The centre's scientists identify changes in infection rates using testing, environmental and workplace data.
NHS Providers chief executive Chris Hopson said despite the UK's alert level dropping, there was a "long way to go yet" and that no-one from the health service was "anywhere near declaring this phase of battle won".


Meanwhile, new NHS England figures suggest one in five adults in England under the age of 70 have had their first dose of a coronavirus vaccine.
An estimated 20.3% of people between the ages of 16 and 69 had been given their first jab as of 21 February, the figures say.
However, the figures highlight some regional variations, with at least one in four over-70s yet to receive their first dose in several parts of London.
More than 18 million people have had a first vaccine dose – equivalent to one in three adults in the UK.
The vaccine rollout has entered its next phase, after everyone in the top four priority groups was offered a jab.
Many areas are now offering vaccine appointments to over-60s, adult carers of disabled people and younger adults in care homes.